Posted by Admin at 30 June 2022, at 11 : 43 AM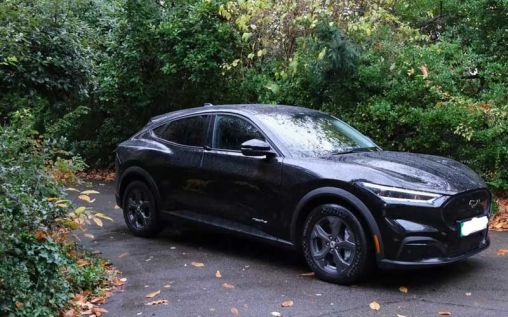 Increasing global pressures are causing more people to consider purchasing electric vehicles (EVs). Many Mustang enthusiasts are wondering how well the new electric 2022 Mustang Mach-E engine can stand up to the gas-fueled 2022 Mustang GT Ford engines in terms of pricing, efficiency, the cost to operate, performance, handling, and braking. Continue reading to find out!
2022 Mustang GT Ford Engine Performance Specs
The 2022 Mustang GT is a well-rounded performer. It's available with a range of strong engines, and it delivers the alluring dynamics that make muscle cars exciting. It also offers a smooth ride and decent fuel mileage.
Its base engine is a 2.3L turbocharged 4-cylinder that produces 310 horsepower and 350 ft-lb of torque. It's rear wheel-driven and is matched with a standard 6-speed manual transmission. For those who don't relish slamming that Mustang shifter, there's an available 10-speed automatic transmission.
There are other Ford engines available for those who want more power: a 5.0L V8 that delivers 460 horsepower and 420 ft-lb of torque, and a supercharged 5.2L V8 that makes 760 horsepower and 625 ft-lb of torque. BEAST! None of these engines is anything comparable to a normal stock rebuilt Ford engine, https://reman-engine.com/remanufactured-engines/ford.
Fuel efficiency and MPG estimates
The 2022 Mustang GT's 2.3L Ford engine delivers impressive fuel economy for a sports car at 21/32 mpg city/highway. In comparison, the 5.2L V8 manual delivers only 14/21 mpg city/highway.
Braking and handling
Mustang GT driving dynamics are just what you would expect from a world-class sports car. Its wide base and sharp steering make you feel grounded and secure even in the tightest corners. And fast acceleration into straightaways definitely satisfies the need for speed! Braking is solid and predictable, allowing you to feel confident and safe. Rear-wheel drive only. No all-wheel drive is available.
2022 Ford Mustang Mach-E Performance Specs
The 2022 Mustang Mach-E delivers an impressive driving experience even for resistant muscleheads who experience difficulty accepting any Ford engines that don't suck gasoline and spit fire. It accelerates surprisingly fast even though you might miss the roar of a gasoline Ford engine.
The base powertrain of the 2022 Mach-E Mustang is an electric motor paired with a 70-kWh battery. Together, they produce 266 horsepower and deliver an estimated 211-mile driving range on a single full charge. Optional powertrains include:
2 electric motors with a 70-kWh battery (266 hp, 211-mile range)
1 electric motor with a 91-kWh battery (290hp, 300-mile range)
2 electric motors with a 91-kWh battery (346 hp, 270-mile range)
2 electric motors with a 91-kWh battery (480 hp, 270-mile range)
2 electric motors with a 91-kWh battery (480 hp, 260-mile range)
The standard drivetrain is rear-wheel drive and all-wheel drive is available. A 1-speed automatic transmission is a stock and there are no alternative choices available.
All powertrain configurations are reported to provide responsive and powerful throttling, both off the line and in passing situations. The Mach-E's 0-to-60 times range from 3.5-seconds (GT Performance trim) up to 6-seconds in rear-wheel-drive models.
Charging and driving range
The 2022 Mustang Mach-E delivers a 211-mile driving range with its base powertrain set-up, and just over 300 miles with its most efficient set-up. The Mach-E can be charged at 120-volt, 240-volt, and DC Fast Charging stations.
A 120-volt charge will add only about 3 miles of driving range per hour of charging. Not so impressive. However, plugging into a 240-volt charging station will add between 30 – 40 miles to the range per hour, amperage-dependent.
DC Fast charging stations will add up to 60 miles of driving range every 10 minutes or so – and can restore up to 80% of your battery's charge in as little as 45 – 50 minutes, again, amperage-dependent.
Braking and handling
Like the Mustang GT, the Mach-E feels strong, solid, and comfortable even in tight corners. It grips the road firmly, allowing it to throttle out of corners without concern about spinning out. Steering is responsive and adequately weighted. The overall ride of the Mach-E lies on the stiffer side of comfort. It absorbs most bumps and dips smoothly but can feel a bit jittery on rough roads.
2022 Mustang Mach-E vs Mustang GT Base Pricing
Pricing for the base model of the 2022 Ford Mustang Mach-E begins at $43,895 while pricing for the 2002 Mustang GT begins at $36,285. Of course, there are various options available for both of the Mustangs. Overall, the Mach-E delivers impressive power and handling responsiveness, more so than most EV-resistant motorheads care to admit.